Start With a Free Custom Quote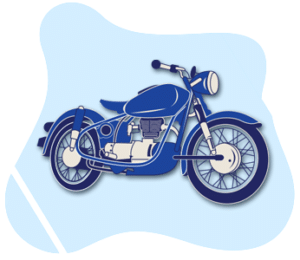 Motorcycle Insurance
The best motorcycle insurance at the best price. Get a Quote
Frequently Asked Questions
Is motorcycle insurance required?
Motorcycle insurance is required in all states and the motorcycle must be registered at the department of motor vechicles.
Are motorcycle helmets required by law?
Some states do require a motorcycle helmet to be worn while on major roads and interstates. Learn more about your state laws.
What are the National Highway Traffic Safety Administration guidelines for motorcycle helmets?
Motorcycle helmets are required by some states for all riders 26 years old and under.
Choose the Right Motorcycle Helmet
Would you like to know more about motorcycle safety?
Learn about motorcycle safety at NHTSA.
National Highway Traffic Safety Administration (NHTSA), DOT.
How old do you have to be to drive a motorcycle?
According to most state's motor laws, licenses are required for operators who must be at least 16 years old. Learner's Permits may be available for those aged 14. Check with your state department of motor vehicles for detailed information.
Where do you get a motorcycle license?
All states have a department of motor vechicles. Motorcycle license follow the same require as auto license. Find your deparment of motor vechicles here
Important Motorcycle Tips
1. Attend The Mandatory Classes
Take a motorcycle safety course. You will be trained by a certified instructor who is familiar with the motorcycle laws. He will also make you go through tests and challenging conditions to test your skills.
2. License, Insurance, And Registration
After completeing your test you will have earned you license. All that hard work finally pays off. You would want to take motorcycle insurance for sure. Take motorycycle insurance, it is very important for both you and your motorcycle.
3. Safety First
Safety always comes first and thanks to the advanced safety equipment that is available in markets now. They keep you safe in style.
4. Helmets
Get a properly fitting helmet your head needs to be protected no matter what. Get a comfortable helmet that meets all safety guidelines. Helmets save lives.
5. Motorcycle Gloves
It's always good to have all the protect you can get and gloves work great.
6. Passengers
Try not to have passengers on board until and unless you are confident enough. Extra passenger means extra weight. You don't want to skid off the road when you think it is the Valentina Rossi moment.
7. Traffic Rules
Always stay on alert mode. The car next to you might be crazy, but keep your calm. The moment you lose it, you lose balance over your motorcycle.
Green, yellow, red! No, we have no plans to take a lecture on traffic signals. Just keep the colors in mind. Take some detours to avoid high-traffic. Take the less-traveled roads and remember to drive slowly.